How to dispose of Old Pallets
Welcome to Dimension, the cheapest pallet removal service in the US! We take your wooden pallets, plastic pallets, metal pallets, and bring them to the most sustainable disposal sites. Market starting price per pallet: $3, our starting price: <$1, prices are even lower with one of our bundles or subscriptions plans.
Trusted to dispose of and recycle wooden pallets by hundreds of businesses, state and local governments. We have worked with some of the largest organizations in the United States.
Get started by completing the form and one of our team will get back to you within 1 business day.
OUR PALLET DISPOSAL SOLUTION:
Less than 50% comparing to competitor pricing

We ship old pallets to recycling facilities. Because pallets can be reused or recycled, these facilities will often be cheaper than sending pallets to landfills.

100% Sustainable

Our eco-friendly pallet recycling service can remove any type of pallets, wherever your old pallets are and make sure they end up at the most sustainable recyclers so that we reduce the amount of waste that end up in landfills.

Nationwide Coverage

We serve every zip code in the U.S. and can serve 8 AM – 8 PM local time.

It's fast and easy

Dimension will work with you to fulfill your disposal and recycling needs of any size. Whether you need to get rid of a single wooden pallet or recycle an entire warehouse of pallets, or whether you need a one-time haul or a recurring recycling, our team can meet your needs.
BENEFITS OF RECYCLING OLD USED PALLETS:
Cost Reduction

Throwing away pallets in landfills is quite expensive when compared to more eco-friendly solutions. Dimension works with disposal sites to recycle your pallets in sustainable ways to reduce your costs.

Free up your warehouse space

Obviously, you will not be able to use the warehouse space if it is occupied by old, empty pallets. Let us take care of removing it so you can worry about things that matter.

Eco-friendly and sustainable

Pallets in good condition can often be reused, and old, broken pallets can be broken down into recyclable material which can be repurposed for various use cases, like mulch or wood chips.

Pallet Recycling Near Me

The easiest why for you to recycle your pallets is to contract a company like Dimension who have professionals who specialize in pallet removal services to come handle the pallet removal. Let us know how we can help?

WHAT DOES PALLET REMOVAL WITH DIMENSION LOOK LIKE?
Here at Dimension, we've created a simple 3-step process for you to quickly remove your old pallets:
Scheduling

: A Dimension team member gathers information about your specific needs, and our operations handle the logistical scheduling for the removal.

Removal

: Dimension's white-glove network of transportation partners coordinates with on-site personnel to arrive, load the trucks, and handle the shipping of the pallets to one of our partners or recycling/disposal sites.

Diversion

: Where do we dispose of or recycle the pallets? Through our various partners and recyclers, we redistribute the pallets. Pallets in good condition can be repurposed or reused. Broken pallets can be recycled to divert them from landfills.
CASE STUDIES:
Dimension helps Floor and Decor warehouse stay free of old pallets
Floor and Decor, one of our largest clients, requires regular wooden pallet removal services. Each week, we efficiently extract hundreds of pallets from their stores, ensuring their warehouse remains clean and ready for new inventory. Our dedicated providers take charge of the retrieval, loading, and shipping of these pallets to nearby recyclers.
There, pallets in good condition are prepared for reuse, while older and damaged ones undergo proper recycling. Through this effective disposal process, we successfully reduce Floor and Decor's carbon footprint by diverting their recyclable wood waste away from landfills and while keeping their warehouses pallet-free.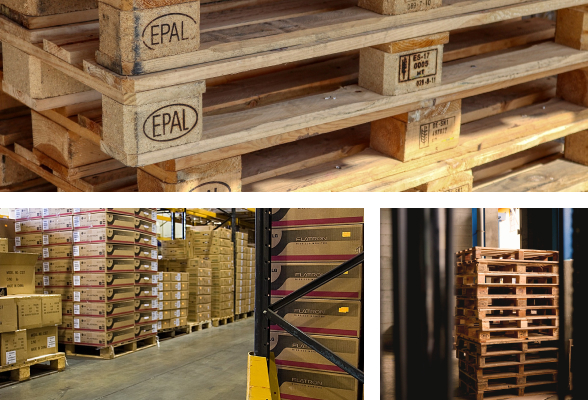 How Much Should You Be
Saving

?

Contact us and we will let you know exact amount within 1 business day.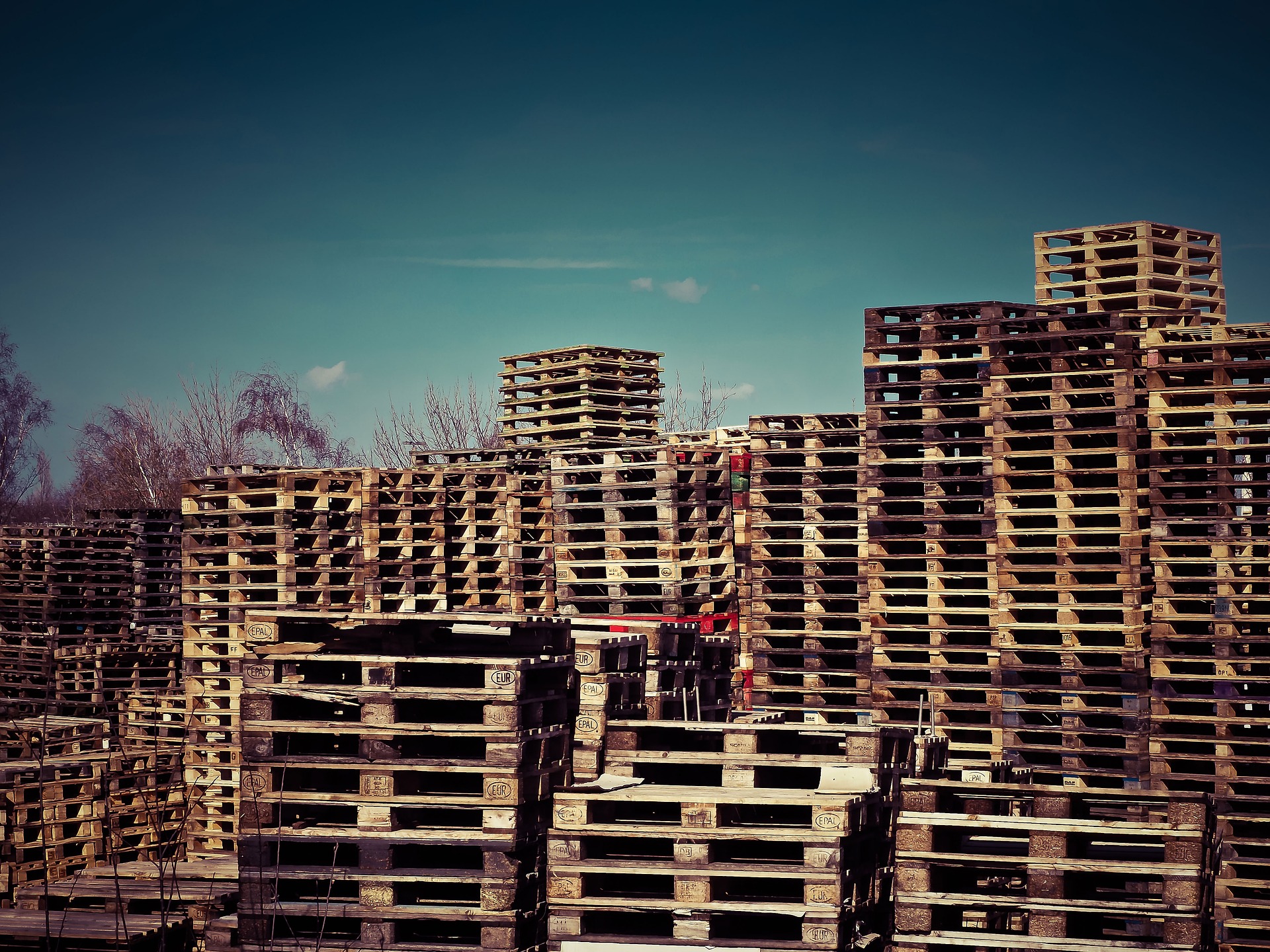 Can you throw pallets away?
While discarding your old pallets is an option, because they are often recyclable, there are more environmentally-friendly, and often cheaper, alternatives to dispose of them. Recycling pallets is a highly recommended approach since it reduces the amount of waste that end up in landfills.
If you find yourself lacking the time, don't want to handle the shipping and/or need to recycle pallets in bulk, Dimension is here to help, contact us for a quote today. We offer efficient residential, commercial and industrial junk and waste removal services, catering to all types of pallets, skids, boxes, cardboard, old packaging and other containers.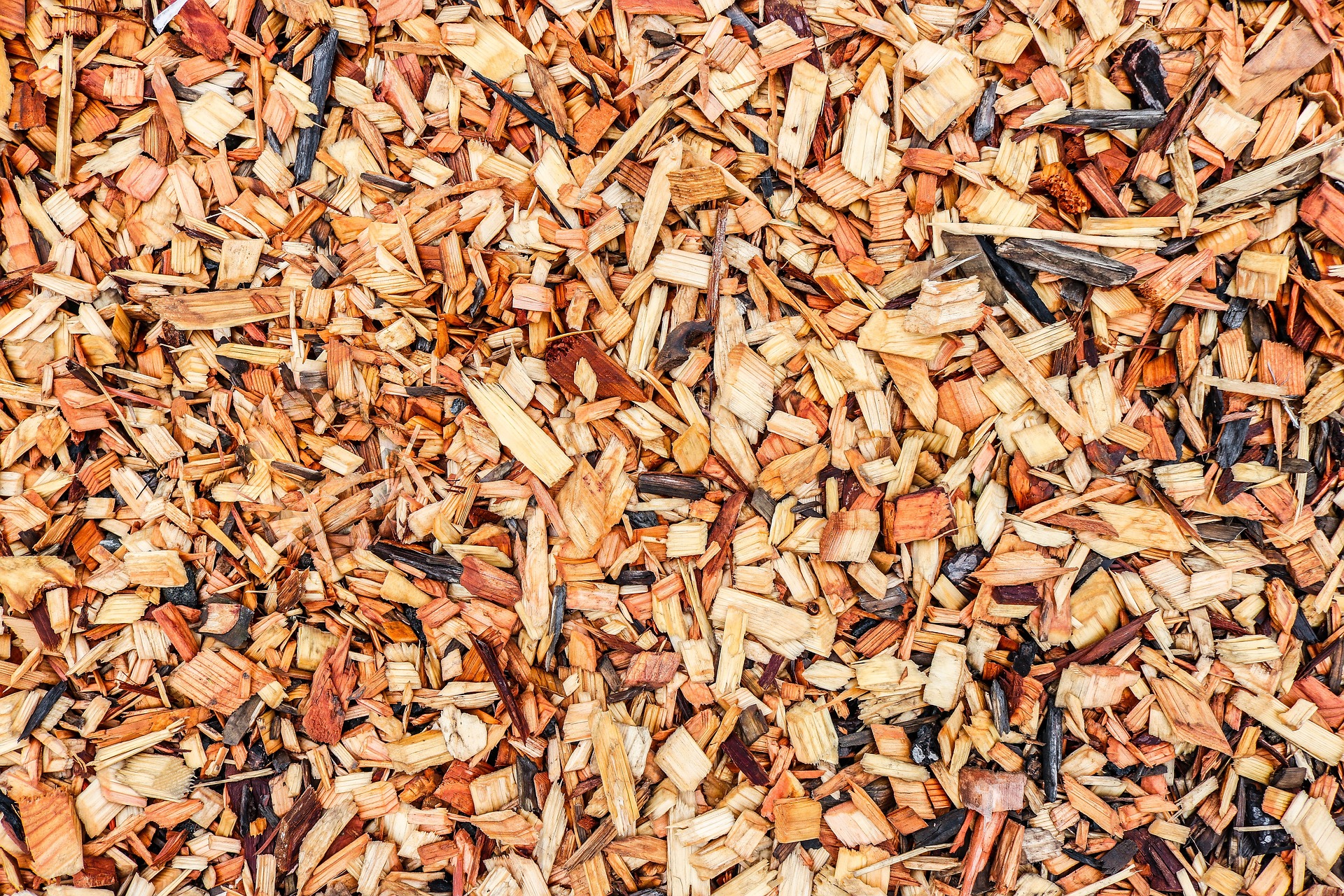 How do you properly dispose of pallets?
There are several good options for disposing of unwanted pallets. Wood pallets can be recycled, reused or repurposed. Wooden pallets can also be broken down at a recycler to create landscaping material. Some recycling facilities can also handle the shredding of old plastic pallets for other uses.
If wooden pallet disposal isn't up your alley, contact us for a customized quote for your needs. We remove and dispose of all types of junk and waste in the most eco-friendly way possible. As a nationwide company, we offer fast, affordable pallet removal for your home or business. Next day service available in most locations.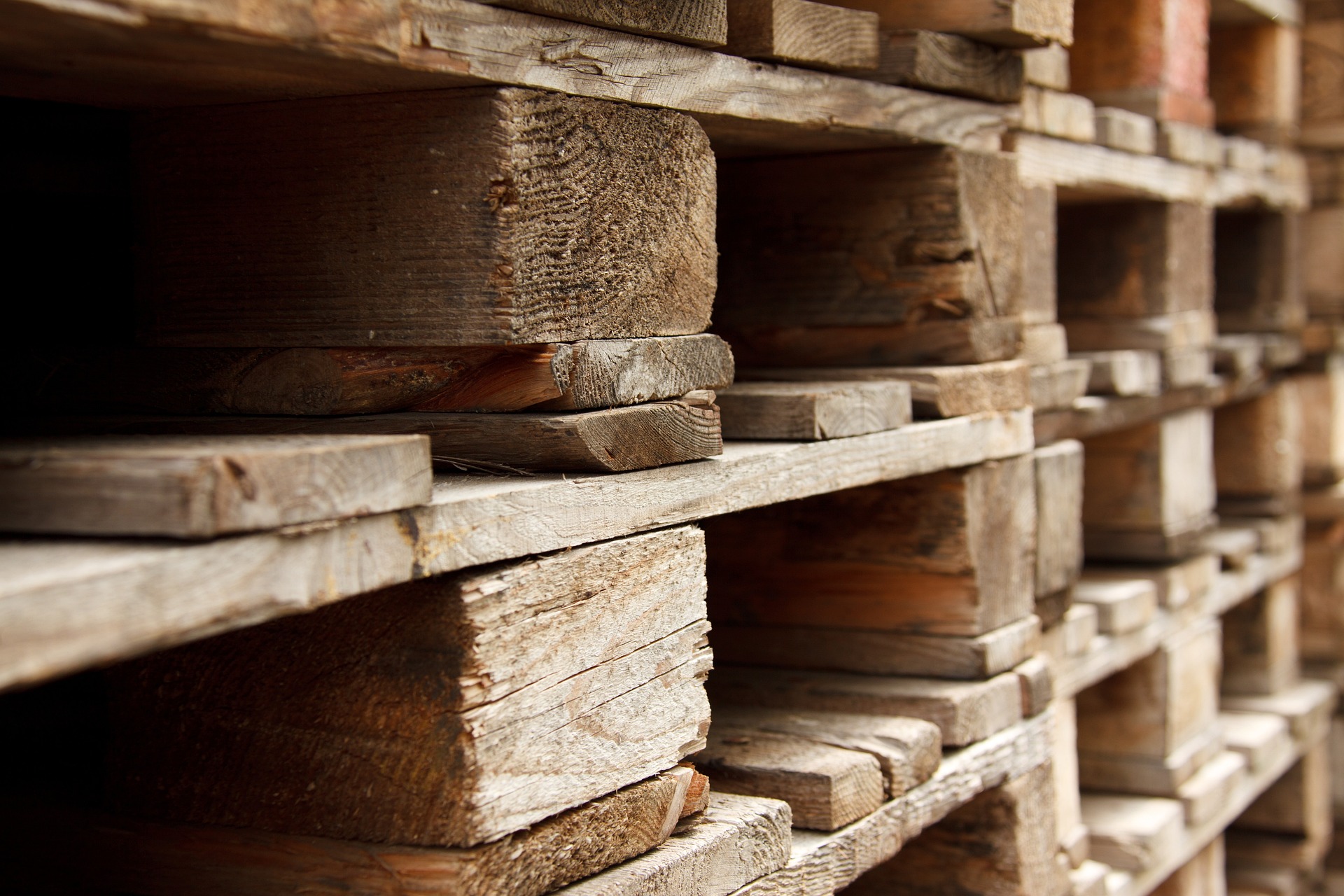 What types of pallets do you take?
We can help you with every kind of pallet. Dimension has experience working with all types of junk and waste. We can take your wood pallets, plastic pallets and metal pallets and make sure they end up at a recycler that will sustainable dispose of your old pallets if they cannot be reused. Contact us today.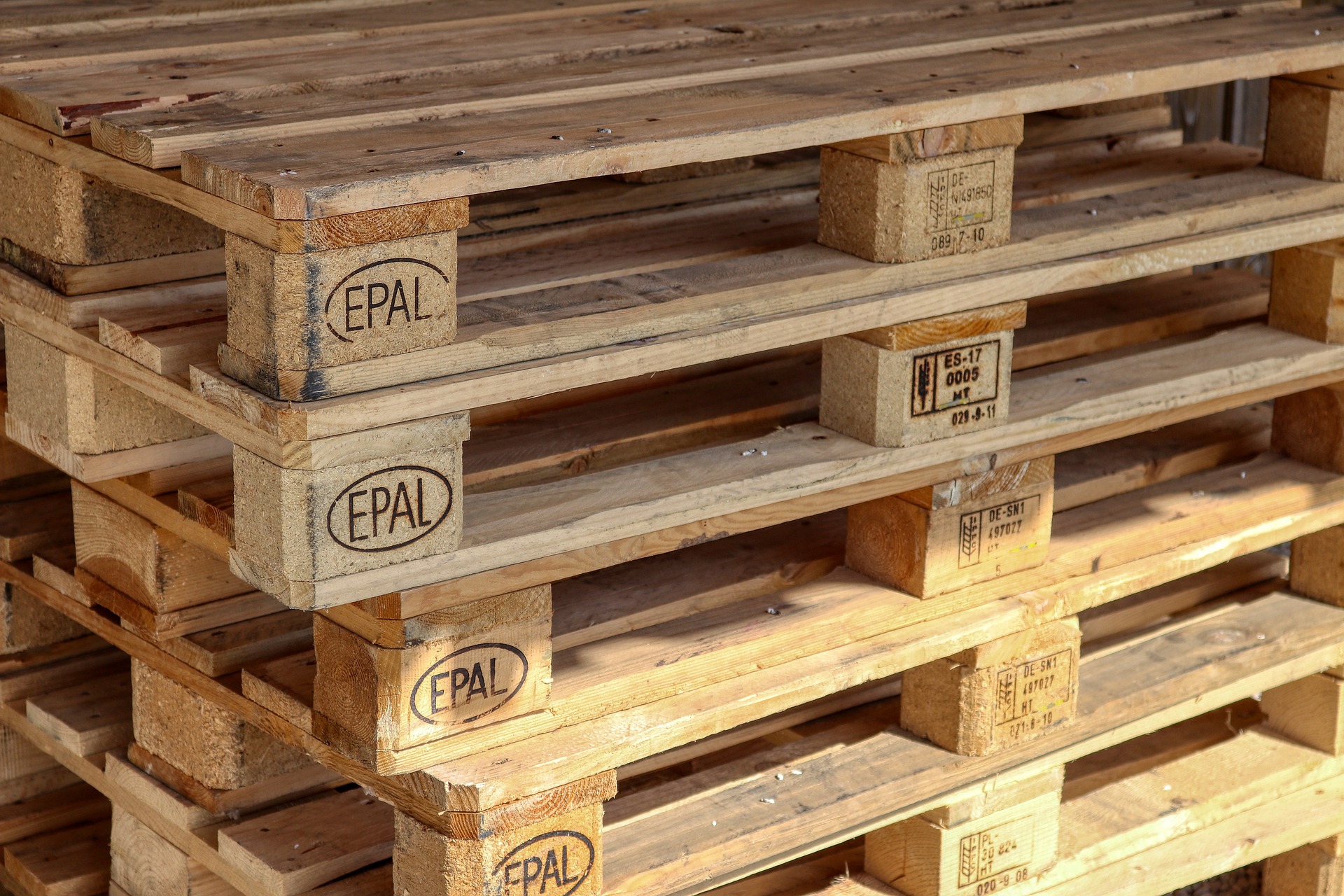 How do you reuse pallets?
If a wooden or plastic pallet is in good condition, they can often be reused or repurposed. Even if a pallet is in bad condition, some sites can repair them for reuse. If a broken pallet cannot be repaired, they are still recyclable so they can be broken down and given to a recycler. Dimension can help you source disposal sites that reuse these pallets which will decrease the overall cost of disposal. Contact us today to see if there are any sites near you.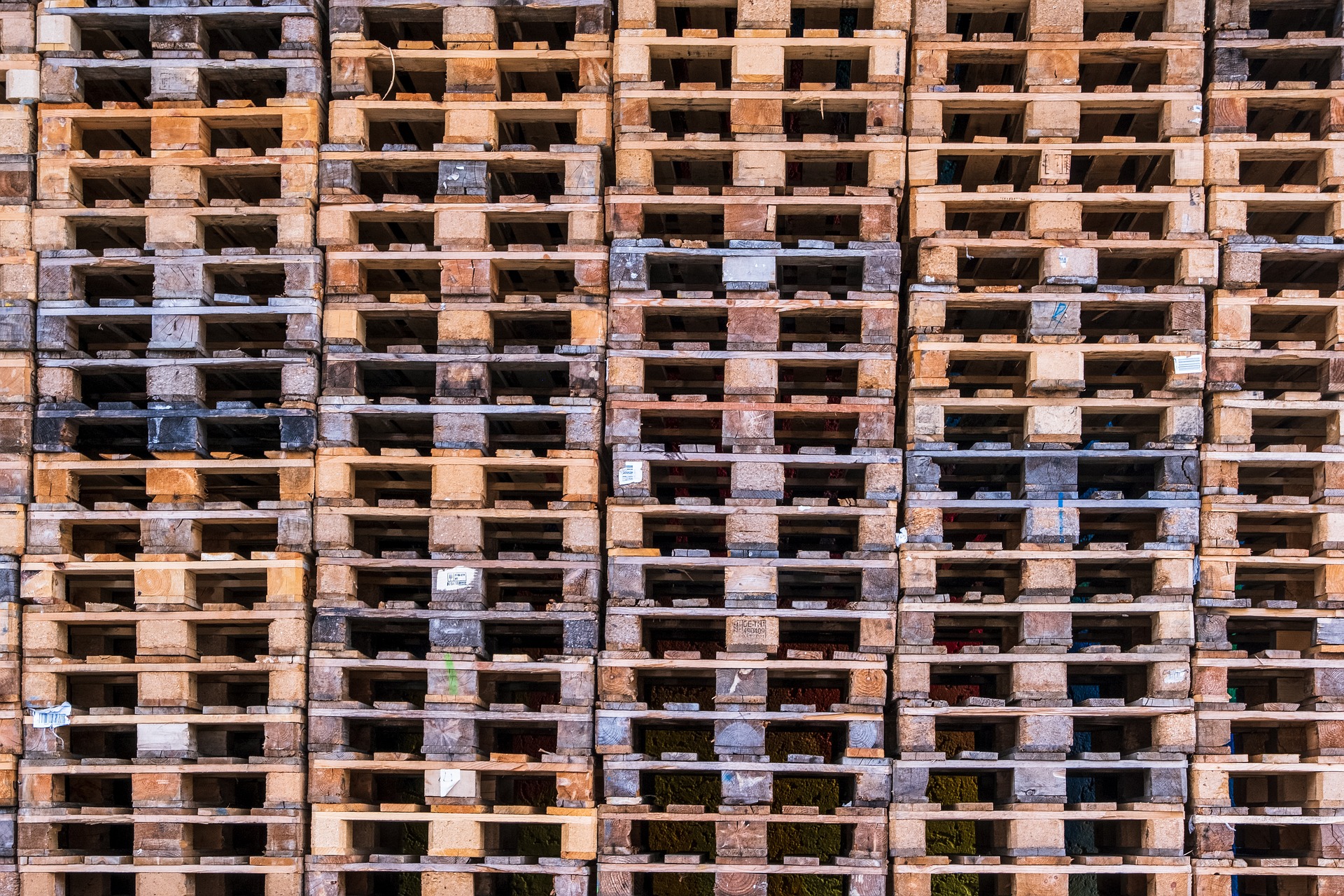 What is the benefit of recycling pallets?
Recycling old, used pallets offers a range of benefits for businesses and the environment. By reusing materials, it conserves resources, reduces waste, and lowers energy consumption. This leads to cost savings, a smaller carbon footprint, and compliance with environmental regulations. Additionally, it supports local job creation and fosters a reputation for sustainability, making pallet recycling a wise and responsible choice for businesses seeking to contribute to a greener future.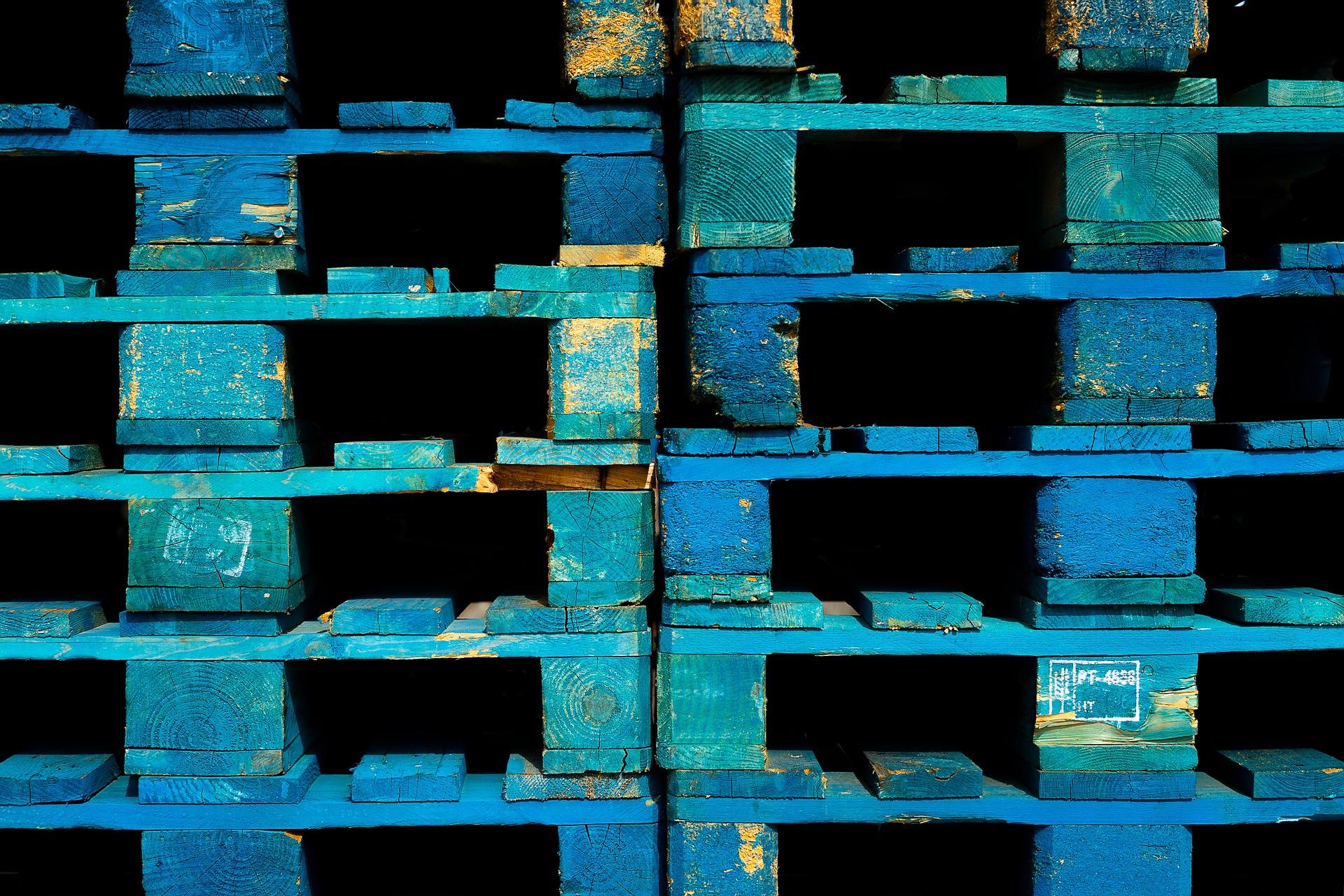 What is the process of pallet recycling?
Pallet recycling is a simpler process than one might imagine. Pallets are typically crafted from wood, metal, or plastic, all of which can be easily broken down and repurposed. A wood pallet, being considered as 'clean wood', can be utilized as scrap material or put through a wood chipper for various purposes, such as animal bedding, mulch, or fuel for wood-burning stoves and boilers.
Similarly, many plastic pallets and metal pallets can also be recycled. However, before recycling, it is crucial to check with your local recycler to confirm whether they accept your specific type of pallet. If not, you can opt for the services of an eco-friendly junk removal company like Dimension, which will ensure your pallets are disposed of in the most environmentally-friendly manner possible.